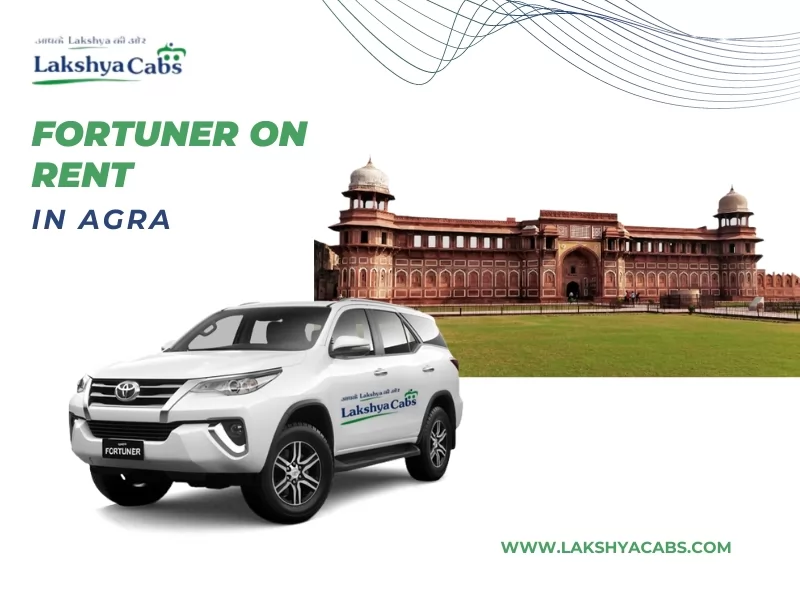 Hire Fortuner in Agra: A Convenient and Hassle-free Way to Travel
Renting a Fortuner in Agra is a convenient and hassle-free way to travel, especially if you're unfamiliar with the city's roads and traffic conditions. LakshyaCabs Fortuner rental, you'll have access to a GPS navigation system, which will guide you to your destination and ensure that you arrive on time. Additionally, a Fortuner rental comes with a professional driver, who will take care of the driving and parking, allowing you to relax and enjoy the journey.
Rent a Fortuner in Agra
If you're planning a trip to Agra and looking for a car rental service that offers comfort, luxury, and convenience, then look no further than LakshyaCabs. The Toyota Fortuner is a top-rated SUV that provides a spacious and comfortable interior, making it an excellent choice for family trips or group travel. With LakshyaCabs Fortuner rental, you'll enjoy the ultimate driving experience and make your trip to Agra truly unforgettable.
Get the Best Deals and Services in Town With Agra Toyota Fortuner Car Hire
When it comes to renting a Fortuner in Agra, there's no shortage of car rental services to choose from. However, if you want to get the best deals and services in town, then you should consider hiring from a reputable car rental company. With a professional car rental service, you'll get access to a wide range of rental options, competitive pricing, and excellent customer support. So, why settle for anything less when you can get the best deals and services for your Fortuner rental in Agra with LakshyaCabs?
Fortuner Rental Services in Agra: Your One-Stop Solution for Car Rental Needs
Whether you're travelling for business or pleasure, renting a Fortuner in Agra can make your trip more enjoyable and hassle-free. With LakshyaCabs, you'll have access to a comprehensive range of rental options that suit your needs and budget. From luxury SUVs to economy cars, you'll find everything you need for a comfortable and stress-free journey.
Toyota Fortuner for Rent in Agra
If you're planning a family vacation in Agra and want a spacious and comfortable car to accommodate your family and luggage, then a Toyota Fortuner rental is the perfect choice for you. The Fortuner is a 7-seater SUV in Agra that offers ample space for passengers and cargo, making it an ideal vehicle for long road trips or family vacations. With a Toyota Fortuner rental in Agra, you'll have peace of mind knowing that you and your family are travelling in a safe, reliable, and comfortable vehicle.
Luxury Fortuner Car Rental in Agra: Experience the Extravagance of Traveling in Style
If you're someone who values luxury and style, then a Fortuner rental in Agra is a perfect choice for you. With its sleek design and premium features, the Fortuner is a luxury SUV that will make your travel experience memorable and extravagant. Whether you're attending a wedding, a corporate event, or simply want to travel in style, LakshyaCabs is an excellent choice for you.
Fortuner SUV Rental in Agra
If you're visiting Agra for the first time and want to explore the city's popular attractions and landmarks, then a Fortuner SUV rental is an excellent choice for you. The Fortuner is a powerful and rugged SUV that can handle any terrain, making it an ideal vehicle for city sightseeing and outdoor adventures.
Best Fortuner Rental In Agra
Rent a Toyota Fortuner with LakshyaCabs and experience the best-in-class luxury and comfort for your next trip to Agra. We offer affordable Fortuner rental services in Agra to cater to all your travel needs without compromising on quality and comfort. Contact LakshyaCabs at +91-7991940830 to book Fortuner in Agra and enjoy a hassle-free and comfortable journey.