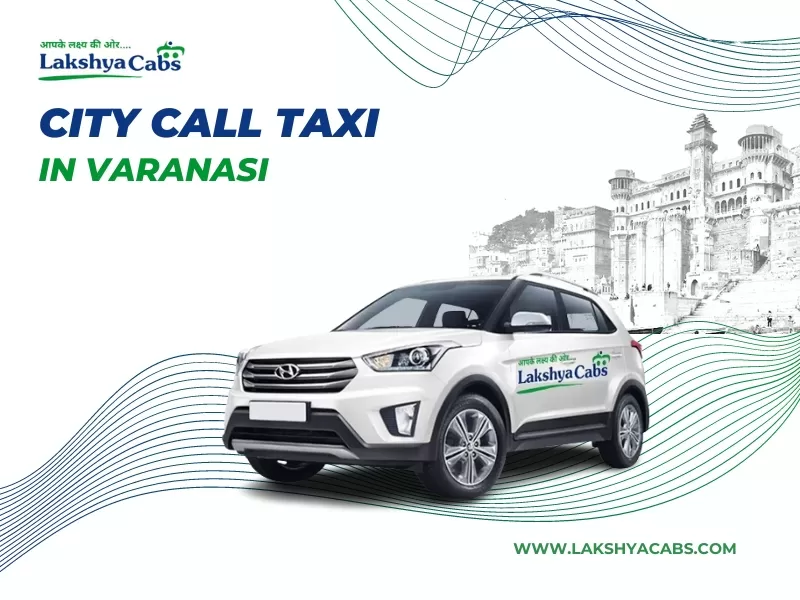 City Call Taxi Varanasi
Varanasi also Banaras or Benares is a city on the Ganges river in northern India that has a central place in the traditions of pilgrimage, death, and mourning in the Hindu world. Varanasi was also the financial capital of Uttar Pradesh. And when it comes to exploring all that Varanasi has to offer, there's no better way than by hiring a call taxi.
A call taxi in Varanasi is a convenient and affordable way to get around the city. Whether you're a local or a visitor, a call taxi can take you to your desired destination quickly and easily. With a variety of taxi operators in the city, you can choose from a range of vehicles that suits your needs and budget.
Call Taxi Services In Varanasi
One of the main advantages of using a call taxi in Varanasi is that it offers a safe and comfortable way to travel. The city's roads can be chaotic and congested, especially during peak hours, and hiring a taxi ensures that you can avoid the hassle of navigating through traffic. Moreover, with a call taxi, you don't have to worry about finding a parking spot, paying for fuel, or maintaining the vehicle. Call a taxi to my location is the best cab booking feature offered by LakshyaCabs.
Another benefit of using a call taxi in Varanasi is that it offers a flexible and customizable mode of transportation. Whether you need to make a quick trip to the market or visit multiple tourist spots in a day, you can tailor your taxi ride to suit your schedule and requirements. Additionally, with a call taxi, you have the option of choosing your preferred route and making stops along the way.
Varanasi Call Taxi Rates
When it comes to booking a call taxi in Varanasi, there are several options available. Many taxi operators have their own mobile apps or websites that allow you to book a taxi online or via phone call. Alternatively, you can hail a taxi on the street or at a taxi stand. With the availability of digital payment options, you can easily pay for your taxi ride without the hassle of carrying cash. We offer the cheapest Call Taxi Rates In Varanasi.
Vehicle Type

Model

Package

Outstation Taxi Fare*

Varanasi Local Taxi Rate*

Full Day Taxi Charges*

Half Day Cab Price*

Hatchback

Wagonr or similar

Starts from Rs. 11.00

Rs. 11.00

Rs. 1650.00

Rs. 825.00

Sedan

Maruti Suzuki Dzire, Honda Etios, Honda Amaze, Zest

Starts from Rs. 13.00

Rs. 13.00

Rs. 1950.00

Rs. 975.00

SUV

Ertiga, Innova, Innova Crysta, Xylo

Starts from Rs. 18.00

Rs. 18.00

Rs. 2700.00

Rs. 1350.00

Tempo Traveller

09 Seater, 12 Seater, 17 Seater, 21 Seater, 27 Seater

Starts from Rs. 30.00

Rs. 30.00

Rs. 4500.00

Rs. 2250.00

Luxury Car

Ciaz, Honda City, Audi, Mercedes, BMW, Jaguar

Starts from Rs. 50.00

Rs. 50.00

Rs. 7500.00

Rs. 3750.00
NOTE: Charges may vary, as it depends upon the daily fuel prices.
Varanasi City Call Taxi Contact Details
If you're looking to explore the vibrant city of Varanasi, hiring a call taxi is the way to go. With its convenience, safety, and flexibility, a call taxi is the perfect mode of transportation to make the most of your time in this historic city. So, book a taxi and get ready to experience the charm of Varanasi! Varanasi call taxi number is +91-7991940830.
Quick Taxi Service In Varanasi
Quick taxi service in Varanasi is a popular choice for those who need fast and efficient transportation in the city. With a range of taxi operators offering the quickest taxi service, you can easily book a taxi via phone call, mobile app, or website. Quick taxi service providers in Varanasi prioritize prompt service, so you can expect a taxi to arrive at your location within minutes of booking. Moreover, with digital payment options and GPS-enabled tracking, the quick taxi service in Varanasi offers a convenient and hassle-free mode of transportation. Whether you need to reach your destination urgently or just prefer a speedy ride, a quick taxi service in Varanasi is a reliable and efficient choice. LakshyaCabs offers the quickest taxi and cabs in Varanasi at the lowest price.