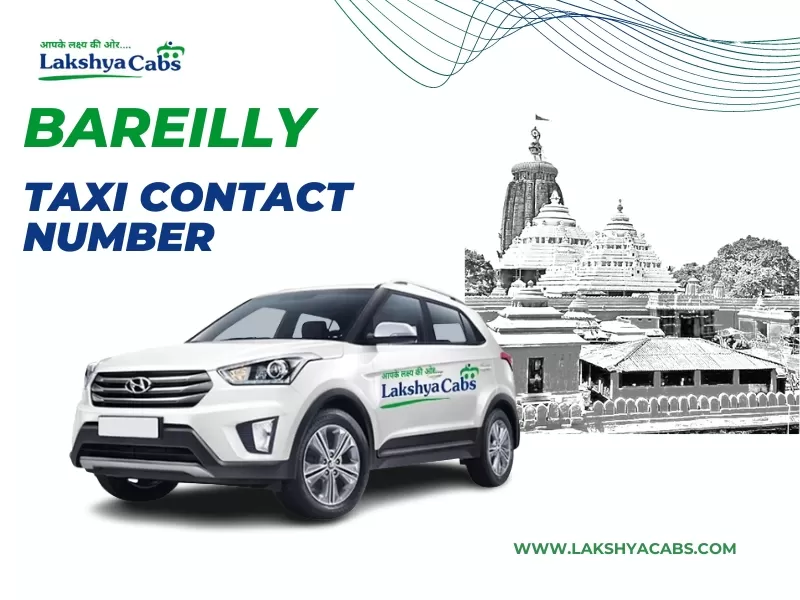 Find Taxi Contact Number To Book An Affordable & Reliable Taxi Service In Bareilly
If you're looking for reliable and affordable taxi services in Bareilly, you've come to the right place. Our taxi service is available 24 hours a day, 7 days a week, so you can always count on us to be there when you need us. Whether you're travelling for business or pleasure, our experienced drivers will get you where you need to go safely and on time.
Our Bareilly taxi service offers a variety of vehicles to choose from, including sedans, SUVs, and vans. All of our vehicles are well-maintained and equipped with modern amenities to ensure your comfort during your ride. Whether you need a ride to the airport, a business meeting, or a night out on the town, we have the perfect vehicle to suit your needs.
Bareilly Airport Taxi Contact Number
Bareilly Airport Taxi Contact Number refers to the phone number that can be used to book a taxi service from and to Bareilly Airport. Passengers can use this contact number to get in touch with a taxi service provider and make a reservation for their transportation needs. This is a convenient way to arrange for a ride from the airport, especially for those who are unfamiliar with the area or do not have their own means of transportation. By using the Bareilly Airport Taxi Contact Number +91-7991940830, travellers can ensure that they have a reliable and safe ride waiting for them upon their arrival.
Bareilly Taxi Phone Number
To book a taxi in Bareilly, you can book a taxi via our phone number or use our online booking system. Our phone number is +91-79919-40830 and our customer service representatives are available to take your call 24/7. If you prefer to book your ride online, simply visit our website www.lakshyacabs.com and fill out the booking form. We'll confirm your reservation by email or phone, and you can rest assured that your ride will be waiting for you when you need it.
Bareilly Taxi Company Contact Number
When you book a taxi with us, you can expect prompt and professional service from start to finish. Our drivers are courteous and knowledgeable, and they'll get you to your destination safely and efficiently. We take pride in our reputation for providing the best taxi service in Bareilly, and we're committed to maintaining that reputation by delivering exceptional service to each and every one of our customers. Bareilly Taxi Company Contact Number is +91-7991940830.
Bareilly Taxi Contact Details
Bareilly Taxi Customer Care Number: 7991940830
Mail: info@lakshyacabs.com
Website: www.lakshyacabs.com
24 Hour Taxi Service In Bareilly
If you're looking for a reliable taxi service in Bareilly, look no further than our 24-hour taxi service. With our convenient booking options, competitive rates, and experienced drivers, we're the best choice for all your transportation needs. Contact us today to book your ride and experience the difference for yourself.
FAQ About Bareilly Taxi Service
Question. What is the Bareilly Taxi Contact Number?
Answer. Book a taxi service in Bareilly at affordable prices from multiple cab booking options and expert drivers. Bareilly taxi contact number is +91-7991940830.
Question. Can I avail of taxi services in Bareilly for one way trips?
Answer. We offer taxi services for one way as well as round trips. We provide taxis on rent for outstation trips.
Question. How will I receive the booking details for the taxi in Bareilly?
Answer. Once the booking is confirmed, all details about the vehicle, including its model, color, registration number, and driver's name, will be sent to the customer's registered email address or mobile number.
Question. How can I find a taxi booking online in Bareilly?
Answer. Online taxi booking is available at low-cost taxi fare in Bareilly with driver. Outstation cabs, airport cabs, and local cabs are the three types of cabs you can book at www.lakshyacabs.com. Hire taxi and cab through the online taxi reservation system by LakshyaCabs.