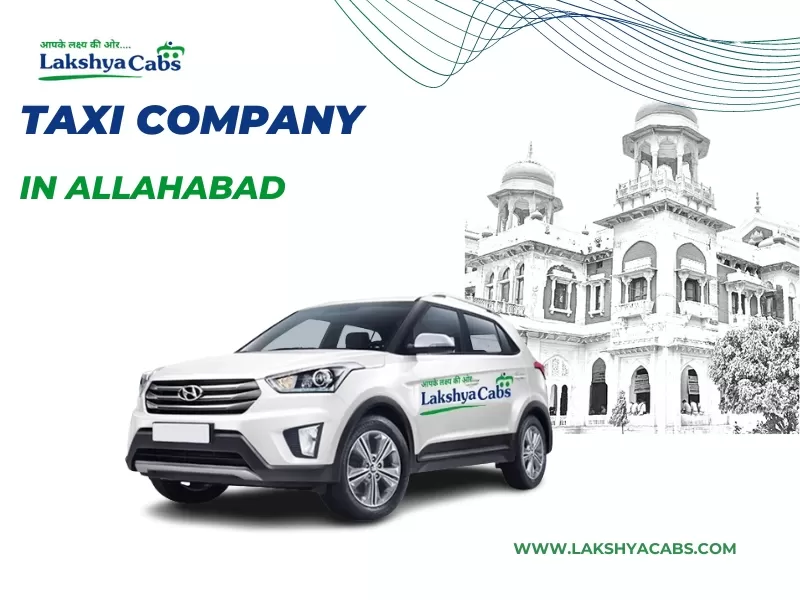 Allahabad Taxi Company
Are you looking for a reliable and efficient taxi company in Allahabad, then LakshyaCabs is one of the best options you can choose for your next ride. Allahabad is known for its rich history, culture, and cuisine. The city attracts a large number of tourists every year who come to explore the city's historical landmarks, beautiful gardens, and mouth-watering food.
Online Taxi Booking In Allahabad
To make the most of your time in Allahabad, it's essential to have a reliable mode of transportation, and that's where the city's best taxi company comes into the picture. Our taxi service offers a range of options, including airport pick-up and drop-off, Allahabad local sightseeing, outstation travel, one way rides, round trips, and intercity transfers. Find affordable taxi booking in Allahabad at LakshyaCabs.
Best Taxi Company In Allahabad
One of Allahabad's most popular taxi companies is LakshyaCabs, which offers both economical and premium options to cater to different customer needs. Our drivers are well-trained and knowledgeable about the city's routes, and our cars are well-maintained and equipped with all the necessary amenities.
Luxury Taxi Company In Allahabad
LakshyaCabs is also one of the top-rated luxury taxi companies in Allahabad, which offers various services, including luxury cars for weddings in Allahabad, luxury car hire, exotic cars on rent and vintage car rental services. We have a user-friendly app that allows customers to book a ride easily and track our driver's location in real time. We provide the safest taxi to reach your destination at night.
Taxi Operator In Allahabad
Also, we are the well-known local taxi operators in Allahabad who provide personalised services and are often more affordable than the larger companies. We also have a fleet of smaller vehicles like hatchbacks and sedans, which are ideal for short trips within the city. Get the Allahabad taxi operator contact number +91-7991940830, to hire taxi in Allahabad.
Affordable Taxi Service In Allahabad
Whether you're a tourist visiting Allahabad or a local resident looking for a reliable taxi service, there are plenty of options available to suit your cab booking needs and budget. Just make sure to do your research and book your ride in advance to avoid any last-minute hassles. LakshyaCabs offers affordable taxi services in Allahabad with driver for outstation.
Allahabad Taxi Fare
Vehicle Type

Model

Tour Package

Outstation Taxi Fare*

Allahabad Local Taxi Rate*

Full Day Taxi Charges*

Half Day Cab Price*

Hatchback

Wagonr or similar

Starts from Rs. 11.00

Rs. 11.00

Rs. 1650.00

Rs. 825.00

Sedan

Maruti Suzuki Dzire, Honda Etios, Honda Amaze, Zest

Starts from Rs. 13.00

Rs. 13.00

Rs. 1950.00

Rs. 975.00

SUV

Ertiga, Innova, Innova Crysta, Xylo

Starts from Rs. 18.00

Rs. 18.00

Rs. 2700.00

Rs. 1350.00

Tempo Traveller

09 Seater, 12 Seater, 17 Seater, 21 Seater, 27 Seater

Starts from Rs. 30.00

Rs. 30.00

Rs. 4500.00

Rs. 2250.00

Luxury Car

Ciaz, Honda City, Audi, Mercedes, BMW, Jaguar

Starts from Rs. 50.00

Rs. 50.00

Rs. 7500.00

Rs. 3750.00
Note: Allahabad taxi company fare is not fixed, please confirm before booking a car.
24 Hour Taxi Service In Allahabad
Our 24 Hour Taxi Service in Allahabad provides instant taxi booking at anytime, during the night and day. This service offers transportation to passengers around the clock, every day of the week. 24-hour taxi service allows passengers to easily and conveniently travel to their desired destination at any time, day or night.
Top Rated Taxi Company In Allahabad
LakshyaCabs is a top-rated taxi company in Allahabad and it is a transportation service provider that has consistently received high ratings and positive reviews from customers in the city of Allahabad. We provide various types of services such as airport transfers, outstation travel, local sightseeing, and corporate transportation. Our top-rated taxi company in Allahabad prioritize customer satisfaction and strives to offer the best possible service to our clients.
FAQ About Allahabad Taxi Companies
Question. Which taxi company is best in Allahabad?
Answer. LakshyaCabs is the best taxi company in Allahabad that offers reliable and affordable taxi in Allahabad. Choose cabs from the wide range of rental cars available in Allahabad.
Question. Which is best online taxi service in Allahabad?
Answer. Whether you're a traveller or a businessman, you need a taxi to easily accommodate within city. The best you can choose is a taxi company to accommodate in the city. LakshyaCabs offers an online taxi service in Allahabad at affordable prices.
Question. How to book taxi in Allahabad?
Answer. At LakshyaCabs, you can find the cheapest taxis in Allahabad. To book a taxi through a taxi website, you can either visit their website or download our taxi booking app. Then select your preferred cab with pick up and drop location and your date & time. The taxi booking updates will be sent to your email.